This could be a stunning Holiday present for lucky Facebook users as CEO and Founder Mark Zuckerberg allegedly announces that he will be giving away $4.5 M to randomly chosen account users.
A chain letter has been circulating on social media during the Christmas season:
"Mark Zuckerberg has announced that he is giving away $45 billion of Facebook stock. What you may not have heard is that he plans to give 10% of it away to people like YOU and ME!" The post reads.
"All you have to do is copy and paste this message into a post IMMEDIATELY. At midnight PST, Facebook will search through the day's post and award 1000 people with $4.5 million Each as a way of saying thank you for making Facebook such a powerful vehicle for connection," via Hollywood Life.
The post may sound to good to be true, though. Sadly, latest reports revealed that this chain letter was nothing but a hoax. Another statement has been released on Facebook to clarify the news.
"Friends don't let friends copy and paste memes. While Priscilla and Mark's pledge to give money to improve the world is real, not everything you read on the internet is, and they're not giving it away randomly. Be safe out there, sweepstakes seekers."
As a result, a lot of seemingly sarcastic memes started to circulate around the social media.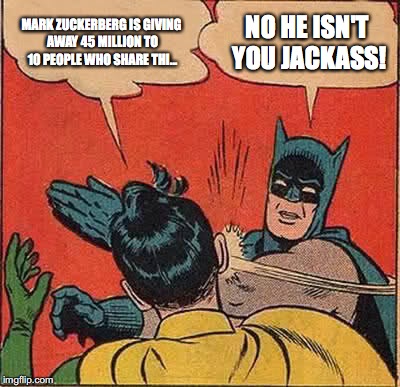 The hoax reportedly started when Zuckerberg and his wife, Priscilla Chan announced that they are planning to donate 99% of their Facebook shares, which is worth around $45 B, to charities over their lifetime through their Chan Zuckerberg Initiative, notes NBC.
The announcement was made after Priscilla gave birth to their child, Max on Dec. 1.