The American Red Cross Society has released a pool safety poster that is being criticized on the grounds of racism.
Margaret Sawyer noticed the pool safety poster in Salida for the first time and she thought that it might be a poster of past and that it "can't possibly be a recent poster." But when she came across the same poster in Fort Morgan, central Colorado, she was shocked as she understood the poster has been designed recently.
"I saw this one and I just kept thinking 'It looks like they're trying to do something here that shows all kids together of all different backgrounds but they're clearly not hitting the mark,'" she said.
The poster depicted the ""cool" and "not cool" activities to be done while kids are near-by or inside the pool. However, instead of delivering a message of pool safety, it seemed focusing on "not cool" perspectives of black children. In the poster, according to 9News, Sawyer noticed that everything "not cool" was done by the kids with dark skin. After seeing the poster for the second time, she claimed that the designers have shifted their focus from designing a clear pool safety message poster.
Sawyer confirmed KUSA that she filed a complaint regarding the poster to a lifeguard and also wrote a letter to management urging for the removal of the poster. She also posted the "racist" image online and texted that she "felt really angry." Her post invited positive response from online surfers. "Hey, @RedCross, send a new pool poster to @SalidaRec bc the current one they have w your name on it is super racist," an online user John Sawyer reacted.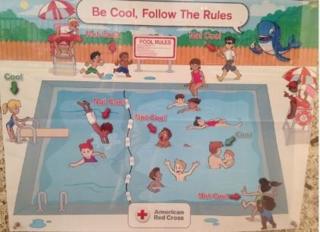 The poster "Be Cool, Follow The Rules" indicated children playing at the pool. But all the "cool" activities were labeled in the name of white kids while everything "not cool" was done by the black children. This expressed the designer's intention to discriminate kids on the basis of racism. St. Louis Post reports that the poster was derived from a safe-swimming campaign in 2014.
Meanwhile, an apology came from the Red Cross Society after it came across the online criticism posted against the pool safety poster on Monday. "The American Red Cross appreciates and is sensitive to the concerns raised regarding one of the water safety posters we produced," the statement said. "We deeply apologize for any misunderstanding, as it was absolutely not our intent to offend anyone. As one of the nation's oldest and largest humanitarian organizations, we are committed to diversity and inclusion in all that we do, every day," the statement read.